From Cascade:
We have four new packaged beers coming your way this month, starting this Friday with the first-ever bottling run of Pistil Whipped. Available in 500ml bottles and draft at our two Portland pubs, Pistil Whipped is a blend of sour blond ales aged in oak wine barrels with late infusions of saffron and chamomile. Pouring a rich golden-yellow from the saffron's distinct color, this unique botanical blend captures saffron's earthy, hay-like spice character with gentle floral and honey notes from the chamomile tea (7.7% ABV). Only 194 cases were produced, so pick some up while you can!
Brewers Big Mike and Norm recently brewed Casual Friday, a unique collaboration with Trap Door Brewing. Casual Friday is a sour Hazy IPA made by blending our sour blond and experimental bret blond with Trap Door's Hazy IPA hopped with Mosaic, Nelson Sauvin and El Dorado hops. It will make its debut at this Saturday's Brewing Bridges Collaboration Beer Festival at the Pearson Air Museum in Vancouver as part of Northbank Beer Week. We've also packaged up a VERY limited amount in 16oz cans that will be available starting Sept. 17, only at Cascade's pubs and at Trap Door.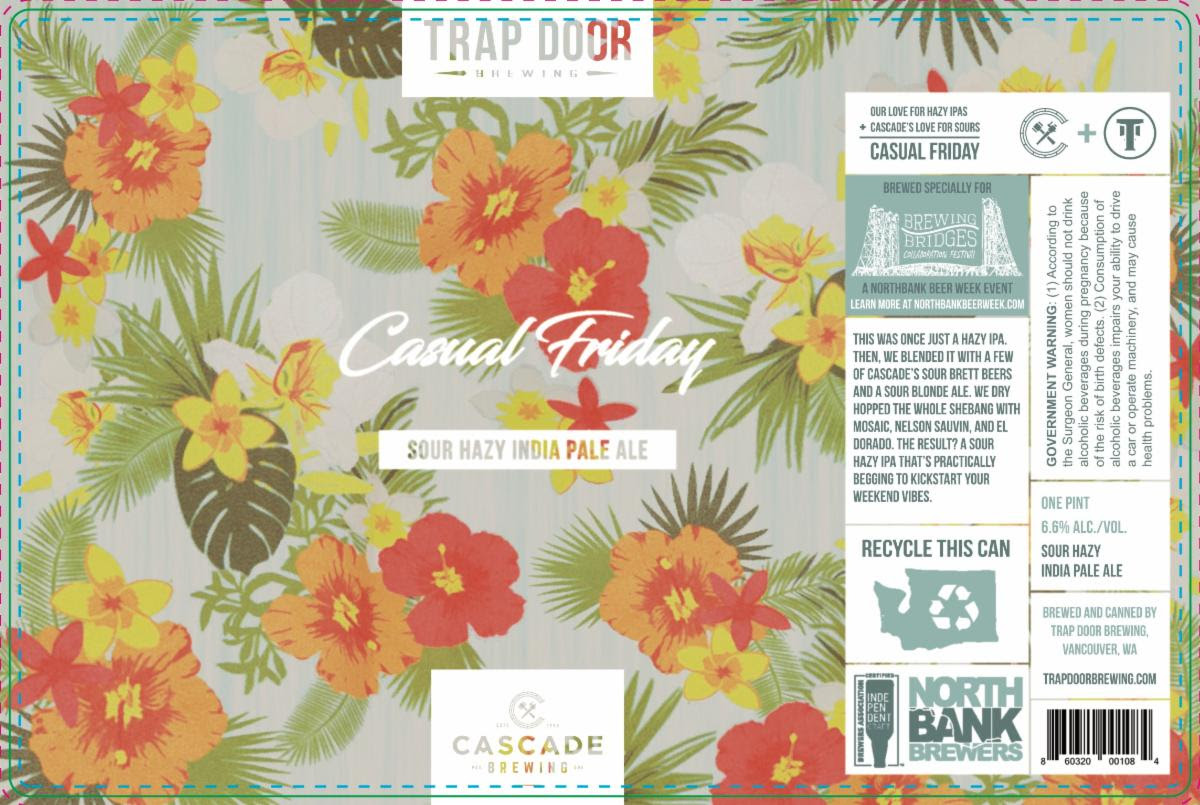 Behold the return of Vlad the Imp Aler, one of the most iconic projects in our 20-year history of brewing and blending sour beer. We will release the 2017 project next Tuesday, Sept. 17, at both Portland pubs and through our distribution channels. This marks Vlad's first bottle release since the 2011 project, and the first time it's available in 500ml bottles (it will be on draft as well). A combination of quad and blond ales aged in bourbon and wine barrels for up to two years with orange peel and coriander, Vlad delivers a fresh acidity and light malt sweetness with notes of bourbon, citrus and spice. Vlad was the Silver Medal Winner at 2009 GABF for Barrel Aged Sour category.
We're celebrating the first-ever bottle release of Harvest Graff, a new fall seasonal project! Graff––sometimes spelled Graf––is a beer fermented with apple juice; the name originates from a fictional beverage invented by Stephen King in "The Dark Tower." Harvest Graff features imperial red and blonds in bourbon and wine barrels with apple juice and cinnamon. This new beer will be available on Friday, Sept. 27 in 500ml bottles and on draft at both Portland pubs and through limited distribution.
Join us for the Barrel House's 9th Anniversary on Friday, Sept. 27. We're throwing a party that includes a special live barrel tapping at 6pm, cake, raffle prizes, bottle specials, and more! And look for our Funky Fresh Hop Sours on draft only from mid-September through early October; follow us @CascadeBrewing on social media for more details!