Normally the headline for this post will detail the beer (or beers) I'm highlight, however DuClaw Brewing was nice enough to send so many different beers that they don't fit into the headline!
I've been a long-time fan of DuClaw Brewing in Baltimore, PA and I consider myself lucky to be in a state close enough that we regularly see their beers on our local beer-shelves.  I'm also excited to get the opportunity to try out several new beers from DuClaw that don't make it all the way to Northeastern PA…and with no less than SIX beers to try out, we should get on with the fun.
These beers are not necessarily in the order we sampled them, but rather I chose to sample some of the newer beers I have not tried last, and lead with those that I've tried in the past.
You'd be surprised how often I mention DuClaw Brewing and the first response I get is Sweet Baby Jesus…and while I get the playful acronym, I can say that people really love this beer and I see a lot of this beer on draft and in bottles locally.  Sweet Baby Jesus is a chocolate peanut butter porter, so right off the bat I'm in love.  The beer pours a deep almost-black color with loads of roasty and slightly sweet chocolate aromas.  The mouthfeel is soft and inviting and the balance of sweet chocolate, nutty peanut butter and roasty dryness is really well done.  There are hops in this beer and you'll likely find them like I did, right at the end as the beer finishes chocolatey and just a bit dry.  At 6.2%-AbV & 33 IBU this one will sneak up on you, but we find it infinitely drinkable and really enjoyable.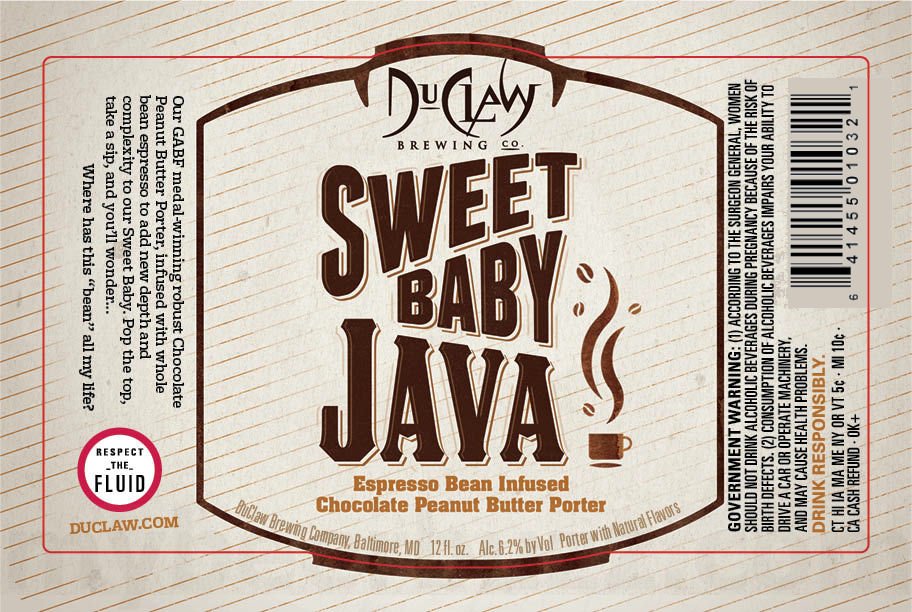 If Sweet Baby Jesus doesn't check all of your coffee-boxes, then be sure to try out DuClaw Sweet Baby Java.  This beer starts life as Sweet Baby Jesus, and DuClaw uses their Hop Gun to inject cold-brewed whole-bean espresso into the mix.  That coffee presence comes out in the aromas, but you can't miss it in the flavors.  The roasty coffee changes the balance a bit, but the chocolate and peanut butter notes still remain.  The subtle sweetness also remains but the coffee adds a really nice dry roasty finish that cleans up the sweetness nicely.  This beer hits 6.5%-AbV & 53 IBU so you will be surprised how well balanced it remains even with the amped up roastiness.
Next up we thought it made sense to dip into DuClaw Dirty Little Freak.  I've had this beer before but I swear it has changed a bit (in a good way) for me.  Dirty Little Freak is an American brown ale infused with coconut, and I swear the coconut flavor somehow improved since my last sampling.  The beer pours a rich brown color and the coconut begins it's march in your nose.  The soft coconut aromas lead into your first sip and the flavors add a nice creaminess that I really enjoyed.  There's a bit of bitter hop at the end, but the overall balance of sweet and bitter really makes for a nice drinking experience.  The coconut and caramel brown ale flavors play well together and even though I don't normally like coconut, this brown ale really pulls it off well.  Dirty Little Freak rolls in at 5.8%-AbV & 30 IBU.
As fall begins to slip into winter, I felt compelled to sample The PasrtyArchy Pumpkin Spice stout next.  This beer not only fits well into the flavor sequence, but it's also one I wanted to taste before it starts snowing outside.  This pastry-inspired beer is a Russian imperial stout that pours a really pretty black color with all sorts of pleasant traditional mulling spices in the nose.  This beer has "dessert" written all over it and the balance of pie-like sweetness and savory roasted pumpkin really works well with the Russian Imperial Stout base.  The beer finishes rich and a bit roasty and the pleasant spices linger nicely at the end.  At 8.5%-AbV & 31 IBU, this beer is packaged in 16oz cans, so plan to share it with a friend (if you're willing to give up 8-ounces).
In the name of full disclosure, I love peaches…so when I opened the box and found the new DuClaw Sour Me Peach Sherbet sour ale, I think I drooled a bit.  I did hold off before I cracked into the can, but this had to be the beer I was looking forward to the most.  Just the thought of peach sherbet made me pop the can open and pour, and the light straw colored sour ale was just bursting with fresh peach aromas.  Take the time to just smell this beer and enjoy the aromas if you can resist drinking it.  Sour Me Peach Sherbet starts with some wonderful tart flavors balanced nicely by the sweet peach flavor.  It may be the "sherbet" name playing with my head, but I swear this beer had an almost creamy mouthfeel that worked well with the sour flavors.  I really like the balance of Sour Me Peach Sherbet and the overall play of sweet and tart, so much so that the 16oz can was gone pretty quickly.  Sour Me Peach Sherbet hits a sessionable 5.5%-AbV and a tart 10 IBU.
Finally I decided to open a really exciting beer from DuClaw that I've never had the chance to try.  The Rule Of Three is a double IPA that is triple dry-hopped with a unique hop-schedule:  Centennial hops, Simcoe lupulin powder and Citra lupulin powder.  The resulting beer pours a bright golden color that just oozes grapefruit, citrus and sticky pine in the aromas.  This is another beer that you should take the time to just enjoy the complexity of the aromas.  The Rule Of Three leads with a punch of grapefruit hoppiness followed by a really nice mix of tangerine citrus, fresh berries and even a subtle melon flavor in the background.  I suspect the lupulin powders really contribute to this punch of flavors and the piney resinous finish really puts a nice punctuation mark on this beer.  At 8.8%-AbV there is a bit of boozy flavor, but overall the balance and complexity of the hops makes for a really fun drinking experience.  Rule Of Three has a surprisingly low 34.8 IBU, especially for just how hoppy the beer smells and tastes, but this is one I know hop-heads will enjoy.
A big thank you to DuClaw Brewing for taking my taste buds on this wonderful tour of their beers.  Be sure to get out there and sample Sweet Baby Jesus, Sweet Baby Java, Dirty Little Freak, The PastryArchy Pumpkin Spice, Sour Me Peach Sherbet and The Rule Of Three DIPA for yourself…and when you do sample them, be sure to let us know what YOU think.