From Drakes:


As the winds rise and the chill begins to fall on the Bay Area, the brewers at Drake's beckon forth again their swashbuckling seasonal Jolly Rodger from the fog. On Saturday, November 10 at 12pm at Drake's Barrel House, this year's incarnation of our always bold Jolly Rodger will emerge from the tanks to greet craft beer fans on tap and in 22 oz. bottles.


Fans of Jolly Rodger will know that this brew has over the years taken many forms and styles. Now, after years of scallywagging about and dallying with any style that caught its fancy, good ole JR is returning to it's original form, an American Barleywine.


Originally crafted as a holiday brew that Drake's brewers could get behind, Jolly had all the warming powers of malt and alcohol, minus the strange holiday beer ubiquitousness of overpowering pie spices, and finished with the open handed smack of bold Northwest American hops.


The 2012 Jolly Rodger is full-bodied with rich caramel malt undertones and mild biscuit malt character. Sufficient additions of West Coast hops balance the malt with pine needle aromatics and satisfying bitterness.


Release Event Details:

When: Saturday, November 10 from 12-9pm

Where: Drake's Barrel House- 1933 Davis St., San Leandro, CA 94577

Food: Oakland's Fist of Flour Wood-fire Pizza

Beer Availability:
Jolly Rodger will be available on tap, on cask, in growlers (2 per person), in (very limited) 5 gallon kegs (1 per person), and in 22oz bottles (6 per person limit).
We will also be pulling some barrel-aged Barleywines from our barrels to put on tap at the Barrel House for a Drake's Barleywine Flight opportunity for the beer geeks to drool about.
---
Drake's Black Robusto Porter Now in Bottles


Last week, a new label ran through our bottling line in San Leandro. For the first time, the long time, draft only brew, Black Robusto Porter stepped into our bottle line-up in 22oz bombers.


Drake's Black Robusto is a deep, dark "Robust Porter," a beer style known for being darker, fuller-bodied, and stronger than a standard Brown Porter. Each pint goes down smoothly with flavors of bittersweet chocolate and slight roast from Crystal and Chocolate malt. A touch of spicy, herbal hop character from Willamette hops balance out the finish. Enjoy a pint, and now a bottle, with dark lingering satisfaction.


With it's malt backbone, chocolate, and roasted flavors, the Black Robusto also plays an exceptional role on the table as it pairs well with smoked meats, BBQ brisket, traditional mole, chocolate, and much more.


You are welcome to grab the Black Robusto here on the shelves at the Drake's Barrel House, and it should be making it to stores in the Bay Area as we write. Further out, in SoCal and up past Sacramento, our fans can expect to see it sometime in November. Cheers to more Drake's beers.
---
New Barrel-Aged Beers Coming Soon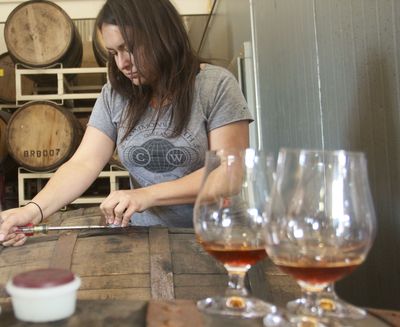 Every November the Bistro in Hayward holds their annual Barrel-Aged Beer Festival celebrating all that is sour, woody, bourbon-infused, wine-soaked, and deliciously complex in wood-aged beer. With this year's fest approaching on November 10th, Lead Brewer Alexandra Nowell has been delving into the barrels to gather our entries for the fest, and other special small batch beers we plan to roll out over the next couple of months. So, what's next from the Drake's Barrels?

1. Bourbon Barrel-Aged Drakonic in a variety of ages and barrels. Some are tart and fruity, some are pure chocolate, wood, and dark fruit.

2. Bourbon and Whiskey Barrel-Aged Barleywine- several vintages of Drake's Barleywines all with varying degrees of cinnamon, vanilla, raisin, bourbon, booze, and oak.

3. Brandy Barrel-Aged Belgians and Drakonic- the brandy accentuates the fruity characters in all it touches.

4. Wine Barrel-Aged light Belgian and Imperial Stout sours.
The exact blends are still in progress, but check out the Drake's Blog to see our lineup of entries for the Barrel-Aged fest. Also, make sure to schedule a couple of visits to the Barrel House to try all the small batch barrel beers soon to come to light.
---
Brewery In Progress- Daily Construction
Over the past year we have undergone some serious physical changes at the brewery, and even in the last month it seemed like hardly a day passed without something new getting installed, moved, or updated.
Top Left: New Hop Cold Box located conveniently by the new boil kettle. Right: Old tanks are moving out (and down the road to Alameda's brewery-in-planning Faction Brewing)
Bottom Left: Moving out the old (23 year old) 15 bbl boil kettle. Right: Surveying the wall just cleared of tanks.
A huge thank you to all of our fans whose support is giving us the means to grow at such an incredible pace. Bigger brewery=More Beer. Cheers to the fans